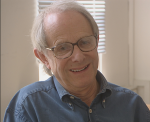 Ken Loach was born in 1936 in Nuneaton. He attended King Edward VI Grammar School and went on to study law at St. Peter's Hall, Oxford. After a brief spell in the theatre, Loach was recruited by the BBC in 1963 as a television director. This launched a long career directing films for television and the cinema, from Cathy Come Home and Kes in the sixties to Land And Freedom, Sweet Sixteen and The Wind That Shakes The Barley in recent years.
Throughout his career Loach's films have been shelved for political reasons. In a 2011 interview with The Guardiannewspaper he said "It makes you angry, not on your own behalf, but on behalf of the people whose voices weren't allowed to be heard. When you had trade unions, ordinary people, rank and file, never been on television, never been interviewed, and they're not allowed to be heard, that's scandalous. And you see it over and over again. I mean, we heard very little from the kids in the riots. You hear some people being inarticulate in a hood, but very few people were actually allowed to speak".
Hidden Agenda won the Special Jury Prize at the 1990 Cannes Film Festival; Riff-Raff won the Felix award for Best European Film of 1992; Raining Stones won the Cannes Special Jury Prize for 1993; Land and Freedom won the FIPRESCI International Critics Prize and the Ecumenical Jury Prize at the 1995 Cannes Film Festival; Peter Mullan won Best Actor at the 1998 Cannes Film Festival for My Name is Joe and Loach won the British Independent Film Award for Best Director; Paul Laverty won Best Screenplay at the 2002 Cannes Film Festival for Sweet Sixteen. On 28 May 2006, Loach won the Palme d'Or at the 2006 Cannes Film Festival for his film The Wind That Shakes the Barley. The Angels' Share won the Cannes Jury Prize for 2012.
Loach has been awarded honorary doctorates by the University of Bath, the University of Birmingham, Staffordshire University, and Keele University.[45] Oxford University awarded him an Honorary Doctor of Civil Law degree in June 2005. He is also an honorary fellow of his alma mater, St Peter's College, Oxford.[46] In May 2006, he was awarded the BAFTA Fellowship at the BAFTA TV Awards.
He received the 2003 Praemium Imperiale (lit. "World Culture Prize in Memory of His Imperial Highness Prince Takamatsu") in the category Film/Theatre.
In 2014 he was presented with the Honorary Golden Bear at the 64th Berlin International Film Festival.