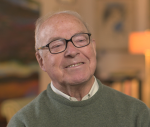 Dr Hans Blix is a Swedish diplomat and politician for the Liberal People's Party. He was Swedish Minister for Foreign Affairs from 1978 to 1979. Dr Blix was also the head of the United Nations Monitoring, Verification and Inspection Commission from 2000 until June 2003).
Prior to the 2003 war in Iraq he headed the UN weapons inspectors who were sent to Iraq to find out if Saddam Hussein's regime had destroyed its weapons of mass destruction. Following the war he has left his position in the United Nations.
Blix's statements about the Iraq WMD program came to contradict the claims of the George W. Bush administration, and attracted a great deal of criticism from supporters of the invasion of Iraq. In an interview on BBC 1 on 8 February 2004, Blix accused the US and British governments of dramatizing the threat of weapons of mass destruction in Iraq, in order to strengthen the case for the 2003 war against the government of Saddam Hussein. Ultimately, no stockpiles of weapons of mass destruction were ever found.
In February 2010, the Government of the United Arab Emirates announced that Dr Blix would head an advisory board for its nuclear power program.