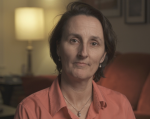 Raised in an Irish Catholic family, Colleen Kelly earned a bachelor's degree from the University of Scranton and a nursing degree from Columbia University. She went on to become a nurse practitioner and co-founded the Ita Ford Health Clinic, which offers free medical service to the poor in Harlem, New York.
On September 11, 2001, Ms. Kelly's brother, William, was killed in the al Qaeda terrorist attack against the World Trade Center in New York. Soon thereafter, Kelly joined with family members of other 9/11 victims and formed the organization September 11th Families for Peaceful Tomorrows. As the group began to coalesce and gain members in 2002, Kelly quit her nursing job in order to devote herself full-time to Peaceful Tomorrows.
In August 2011, Kelly was named as the winner of Pax Christi USA's Teacher of Peace Award.