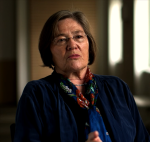 Clare Short was MP for Birmingham Ladywood from 1983 to 2010 and Secretary of State for International Development from 1997 to May 2003. DFID was a new Ministry created after the 1997 general election to promote policies for sustainable development and the elimination of poverty.
In 2003, Ms Short resigned from the Government over the Iraq war and in 2006, she resigned the Labour whip.
She stood down from Parliament in 2010, and is now active in various organisations working on slum upgrading in the developing world, transparency in oil, gas and mining, African-led humanitarian action, destitute asylum-seekers in Birmingham, Trade Justice for the developing world and for a just settlement of the Palestinian/ Israeli conflict. She is a trustee of Hope Projects (West Midlands) Ltd, Trade Out of Poverty, the Welfare Association, and Africa Humanitarian Action; and patron of the Israeli Committee Against House Demolitions UK. She is a member of the Advisory Committee of International Lawyers for Africa. In March 2011 she was elected Chair of the Extractive Industries Transparency Initiative (EITI).