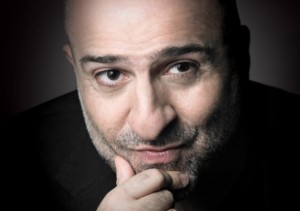 Omid Djalili is an actor/comedian who spends most of his time trying to keep his weight down by yoyo dieting and playing football in West London, still hoping to get spotted by Brentford Football Club.
Djalili has won awards for his comedy. These include the EMMA Award, Time Out Award, and LWT Comedy Award for Best Stand-up Comedian, Spirit of the Fringe Award as well as the One World Media Award for his Channel 4 documentary, Bloody Foreigners.
He has also been nominated for awards, such as the Perrier Award for Best Comedian, the Gemini Award for Best Comedy Performance of 2003, the South Bank Award for Best Comedy of 2003, the Royal Television Society Award for Best Stand-up, and the European TV Award for his Bloody Foreigners.